Please consider donating to Paws for Life's "SPECIAL NEEDS MEDICAL FUND"
This will help the shelter animals needing extra medical care, such as Heartworm treatment, surgeries, and pro-longed medical attention. Many times the Edmond Animal Shelter will not be able to cover expenses as these and this is when we need your help to save a pet's life! Please send your tax-deductible donation to: Paws for Life, Inc., P.O. Box 3211, Edmond, OK 73083 and indicate "Medical Fund".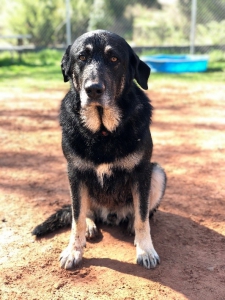 Sweet Shep – This handsome three year old shepherd was originally brought to the shelter as a stray, and after a brief stay, was adopted. Shortly after adoption however, his family was unable to keep him (as he is an escape artist) and returned him to the shelter. Upon evaluation the second time around, he was discovered to be heartworm positive. We were able to find him the perfect foster home (with another dog friend and even a couple of cats), and with the help of Paws for Life, we were able to get this sweet guy the lifesaving treatment he needs to be free of heartworm disease! Once his treatment is complete he will be ready to find his forever family, which shouldn't be too difficult, just look at that face!
Tentative Treeger – A sad story with a happy ending! Treeger was originally called in as a stray dog who had been roaming with another dog on a gentleman's property on the edge of town. He had clearly been on his own for a while, as he was thin and very skittish around people. Unable to be hand caught, this poor guy had to be lured by food into a trap. From the moment he arrived at the shelter, Treeger really loved attention and affection, but was terrified of everything else. The most anxious dog we have ever had, he was afraid of leaving the safe space of his kennel, even for walks, and would often escape his leash mid walk and run right back to the shelter. On top of that anxiety, he was heartworm positive. We just couldn't give up on Treeger, so after reaching out to Paws for Life, we were able to treat his heartworms and continue our mission of finding him the best home possible to fit his special needs. After a couple of months in the shelter, he was finally adopted, but of course with anxiety like his, things weren't so easy. After less than two hours in his new home, he escaped, and was on his own again. For one whole month Treeger was on the run. After a while, he happened upon a ranch where chasing cows was fun and there was a nice barn to crash in. The residents tried to gain his trust while shelter staff and volunteers got organized for a rescue mission! He was finally caught once again, with the help of so many, and it was back to the shelter for this tired boy. After hearing his story, and recognizing his special needs, one of the shelters volunteers decided to foster Treeger! Over several months, his foster mom was able to help Treeger learn what it means to feel safe and was finally able to receive all the love he deserves. Treeger and his foster mom bonded quickly, and after everything they had been through together, she decided to ADOPT him! A sad series of events led this sweet boy exactly where he needed to be, but without Paws for Life, Treeger's life may have ended with his heartworm positive diagnosis. He may have never had the opportunity to know the true love of a family, or a warm bed to call his own. Treeger now has a chance at a truly wonderful life, all thanks to Paws for Life!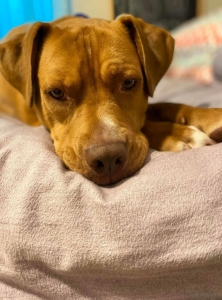 Goofy Guinness – This funny guy came in to the shelter as a stray. He was nervous of people at first – he loved to use his thundering bark to ward off people. It didn't take long, however, for him to learn that people are fun and can give good scratches! He blossomed into the sweetest, funniest, and chunkiest boy, and after discovering that he was heartworm positive, we decided he was too cute and squishy not to treat! With the help of Paws for Life, we were able to get him treatment, and give him the opportunity to eventually find the perfect forever home! With the help of one of our best foster/volunteers, we learned so much more about this big-lug. From his sensitive and loving personality, his rough and rowdy play style, to his deep love of all things food – it's hard not to fall in love with Guinness! Eventually, this brawny boy was able to find the loving home he deserves and now lives every day to the fullest! All thanks to Paws for Life!
Beautiful Ms. Butterworth – Ms. B for short, is our most recent heartworm positive case. She had been running loose in an Edmond neighborhood for a couple of days before our animal welfare officers were able to catch her. Very fearful and stressed, she did not trust people. Shelter staff did everything possible to help her feel comfortable, and while she still held a grudge against the officers, she closely bonded with our shelter specialists. She spent her entire stray hold as our personal office dog, in a quiet space, carefully baby gated away from anything that may trigger her anxiety. She made such progress in those four days, that when her evaluation revealed her heartworm positive diagnosis, we felt that we just couldn't give up on her now! Her treatment, sponsored by the generous Paws for Life, enabled us to find Ms. Butterworth the perfect foster home where she continues to learn trust and what life as a loving companion is all about! This beauty will no doubt blossom from a timid caterpillar into a social butterfly, and once her treatment is complete, will be even closer to finding a permanent home where she can be pampered and adored for the rest of her life!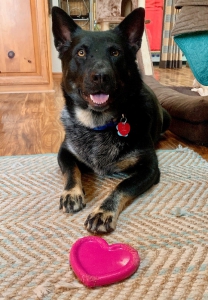 Donate using PayPal
PawsForLife, Inc. is now accepting PayPal for charitable donations.