Please consider donating to Paws for Life's "SPECIAL NEEDS MEDICAL FUND"
This will help the shelter animals needing extra medical care, such as Heartworm treatment, surgeries, and pro-longed medical attention. Many times the Edmond Animal Shelter will not be able to cover expenses as these and this is when we need your help to save a pet's life! Please send your tax-deductible donation to: Paws for Life, Inc., P.O. Box 3211, Edmond, OK 73083 and indicate "Medical Fund".
    
Donate using PayPal
PawsForLife, Inc. is now accepting PayPal for charitable donations.
Donate a Marchioro Perla Pet Bed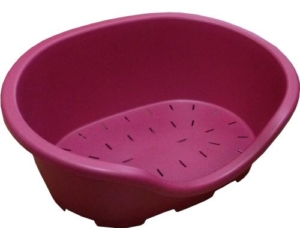 We use Patented Marchioro Perla Pet Beds because they are durable, chew proof and easy to clean. Two different sizes are needed: Marchioro Perla 5, 32.75-Inch and Marchioro Perla 3, 26 Inch. No color preference.  If you would like to donate a bed to us, you may shop on-line and have your order shipped directly to the shelter: EDMOND ANIMAL SERVICES, 2424 Old Timbers Dr., Edmond OK 73034.
UPDATE!
Paws for Life and the Edmond Animal Services would like to give thanks to Julie & Phillip McNatt for donating new dog beds for all the dog kennels at the shelter. We so appreciate your support and generosity! Thank you so much!"
A big THANK YOU to all of the kind donations. Your generosity helps make these deserving pets so much more comfortable until they find their forever home.  Your generosity has help make the life's of these deserving future pets so much more comfortable until they find their forever home.  PLEASE check back often to learn of any additional needs we may have.    
 (Why not shop AmazonSmile or IGive, indicate Paws for Life, Inc., is your charitable organization, and you'll be donating twice!)
Please share this and let's get some beds for those shelter dogs!