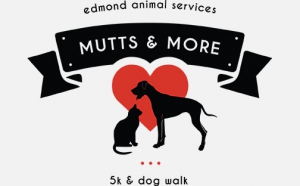 We are proud to introduce the 2018 Mutts & More 5K and Dog Walk to benefit Paws for Life's Medical Fund for the Edmond Animal Shelter!
Paws for Life, Inc., is a 501(c)3 non-profit organization who assists the Edmond Animal Shelter with unique medical needs of the dogs and cats, such as:
heartworm treatments for dogs $300 – $600
surgeries (including broken legs, broken tails or in some cases, amputations) $300 – $900
hospitalizations (parvo or upper respiratory) $300 – $800
These costs average $11,000 to $13,000 a year.  We are able to save lives by funding these expenses. 
The 2018 Mutts & More 5K Run and Dog Walk will be held Sunday, April 22, 2018, at Mitch Park, Edmond, OK, at 2 pm. 
Our committee members are now soliciting sponsorships and donations from generous business people and individuals like you.  We hope you will consider a sponsorship, a cash donation, donated item(s) for participants and/or  advertisement items from your business.   The attached sheet provides more information. 
If you have questions or want more information about the run, please contact race director Stephanie Coldiron at (405) 250-6864 or steph.coldiron@gmail.com 
Want to register?  Great! Just click HERE!  
Want to be a sponsor?  We'd LOVE that…just download sponsorship info HERE!
Thank you for your consideration!